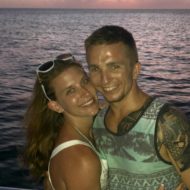 Aj and I can't say enough good things about Journeys Near and Far! Melody is amazing! We used her services for our honeymoon and will definitely be using her again in the future!
We traveled to St Lucia.  Any questions that we had Melody responded to very quickly, and even if she didn't know the answer, she took the initiative to find the answer for us.
---
From setting up our butlers to helping us pick excursions and activities, Melody was super knowledgeable about the resort and what it had to offer us to make it special.
---
She even helped us with airport hotel stays and parking areas to leave our car for the week. She made it super simple for us.
We definitely recommend Journeys Near and Far for your travels.  Whether it be a honeymoon or anniversary you won't be disappointed with her services!
- Amanda & AJ Wachendorf